Spartan Men's Health – Dr. Kambiz Tajkarimi
September 30, 2017
Who Should Consider a Penile Implant?
April 8, 2018
Myths about Penile Implants
Kambiz Tajkarimi, MD
Urology Surgical Consulting, PC
Penile Implant Institute of Greater Washington, DC
Lansdowne, Virginia
Most men when they hear about penile implants, they are scared!
"No way! It's never for me!!!"
Fearsome misconceptions are false and misguided.
In this segment I would like to discuss some of the common misconceptions about penile implants, so our readers become educated and make decisions without reflex fear and anxiety.
It's never too old or too late to make love to your partner.
Common causes of ED are diabetes, hypertension, heart/vascular disease, smoking, alcohol or drug abuse, neurological conditions/back problems, and pelvic surgery or radiation (prostate, bladder, and colon).
You can definitely make love to your partner without an erection, but if erection is desired, there are many effective options available, and penile implant is definitely one of the most successful of all if chosen at the right window of time and performed by a surgeon dedicated to the art of prosthetic surgery.
A 3-piece inflatable penile prosthesis, or penile implant, is a hydraulic medical device which is surgically implanted within the corpora cavernosa of the penis during a surgical procedure. In the deactivated phase, your penis will look flaccid, just like a penis that is not erect. When the device is activated by you in about 15 seconds, the penis become fully firm and erect.
The procedure can be performed through a very small incision 1 inche at the scrotum (penoscrotal) or above the penis (infrapubic). All components of the penile implant are inserted by the surgeon through this small incision. The procedure takes about 20-30 minutes in the hands of an experienced prosthetic surgeon. Patient are either discharged home or kept overnight and they can resume sexual intercourse after 3-4 weeks.
When oral medications and injections fail to produce satisfactory results, many men with ED just give up and begin to convince themselves that their sex life is over and reflect how good they were in bed 30-50 years ago. They only dream backwards and give up moving their desires forward.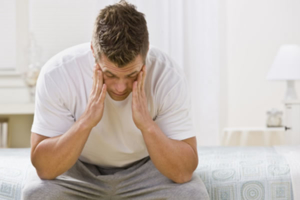 Here are the Myths:
Myth #1  The surgery is going to Kill! and recovery is going to hurt!
Nothing is ever removed from the penis by the surgeon. The surgery takes about 15-30 minutes. After 3 months, the patients will likely not even notice something is inside of them. You can have orgasm, ejaculation, make babies. You can go through the airport. It is integrated as part of your body, like a hip or knee implant.
Myth #2 It's going to be hard to use. It may go off by itself
You have absolute control of your implant. You have complete control of the duration and rigidity of your erection. Can you say that about your own natural erection? There is no way that a well-placed pump will inflate by itself or deflate by itself. You have to do it.
Myth #3 People will know, my partner will know
Everything is buried inside the scrotum. You cannot see the pump, or feel the pump during love making. You can take a shower in the locker room, and no one will know you have an implant.
Myth #4 It must be too expensive. My insurance won't cover it
Penile implants were invented in 1973, and have been covered by US Medicare since 1975. Some insurance cover it. More than 25000 penile implants were performed last year alone, and thousands of men who do not have coverage personally invest in penile implants because love making is an important aspect of their lives. Penile implant is a gift for you. Its going to impact you, your partner, and sexual self-confidence.
Myth #5   Dude, I am too old for an implant!
Age is not a dis-qualifier for love making. Some teens, and men in their 90's have penile implants when medically warranted and indicated.
Myth #6 Rate of Implant infection is too high!
Rate of implant infection is about 1% in non-diabetic men, and 3-5% in men with poorly controlled diabetes. Infection of the implant is serious and must be managed very carefully and commonly may lead to surgical removal and replacement once infection is cleared. Prosthetic surgeons and medical device companies are working hard to reduce complications and infection rates.
Due to the wide range in treatment options, it is crucial that you speak with your physician and learn all the facts and making an educated decision is essential when choosing a sexual dysfunction therapy.
If you suffer from severe ED (diabetes, high blood pressure, pelvic surgery, oral ED drugs don't work, or you can't inject into penis or don't want to) you will likely lose about half an inch of your penis length every year. This will happen due to fibrosis and scarring. This loss is permanent and irreversible. The longer you wait for an implant, the shorter your penis will be. If the ability to have fantastic sex with your partner is an important goal and dream of your remaining decades of life, What are your waiting for?
So you're ready when the moment arrives