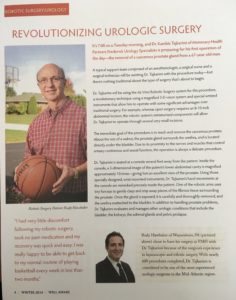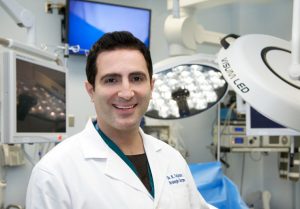 Highly recommend, best urologist in loudoun county. I had horrible symptoms that other urologists couldn't help me with for over half a year then after a couple of visits, a few months later I've been feeling just fine again. Been about over half a year of feeling good and back to myself again.
---
My husband was able to book an appointment with Dr.Tajkarimi within two days after getting diagnosed with skin cancer. For what a dermatologist could not handle, Dr.Tajkarimi was able to consult with us and schedule a procedure within two days! My husband was terrified, but the staff and Dr.Tajkarimi put him at ease throughout the process. Less than a week after the procedure, my husband got the good word that they cleared the margins of the skin cancer. We are so grateful and highly recommend Dr.Tajkarimi!!
---
Dr. Taj is one of those exceptional physicians who is not only extremely talented in his areas of expertise but a truly empathetic human being. His care is all encompassing in that he takes the time to educate the patient in ways one can truly understand. He goes the extra mile to ensure his patients are comfortable and able to make informed decisions in their care. He is extremely responsive. My husband and I would highly recommend Dr. Taj.
---
Vitals.com- Posted on February 14th, 2019 I recently had a prostate biopsy performed by Dr. Tajkarimi. I admit to having much anxiety leading up to the procedure as I would imagine any sane man would. It was my third visit that led up to the biopsy. Dr. Tajkarimi has an outstanding disposition; caring, funny and very much to the point- professional. He has what many doctors lack-A PERSONALITY! Horrified at the prospect of what was to come I must say the the procedure was conducted in as painless and efficient manner possible. In fact, the only real pain (if that) was the antibiotic needle in the butt before the actual biopsy. What I thought would be the real hard part- the insertions to numb the prostate and take the samples-seemed to pass quickly with minimal discomfort as Dr. Tajkarimi conversed with me at times to help put me at ease and guide me through. After it was done he gave me a "high five" and I was on my way. Should the results prove to be bad, I am extremely secure knowing Dr. Tajkarimi will provide the absolute best course of action possible. A 10 star rating from me!
---
After 2 years or more of observing and challenging my PSA level it jumped from 1.5 to 3.5 in one year, and one time jumped to 16 for short period of time. I underwent a biopsy (by Dr. ......) which confirmed prostate cancer, stage 3, Gleason 7 (3+4). A further MRI (Georgetown Hospital) confirmed the diagnosis and the presence of cancer. I consulted with an experienced professional in each of the possible treatments (Dr. ........, Dr. ......, Dr. ....... at NIH and Dr. Samadi in New York) – Robotic surgery and Cyberknife. I was debating between the different treatments and I was concerned about the potential side effects specifically for the Cyberknife, and the error range is about 1-2mm. After much consideration, I decided I would proceed with the Robotic surgery but I will find a surgeon that had performed this operation many times (preferred locally). I found out about Dr. K. Tajkarimi while researching, reviewing online and contacted his office and sent them my lab results. I made an appointment a week after, he responded logically to all my questions, I scheduled a date for the operation at Reston Hospital in Virginia. I was discharged home next morning. After 7  days Dr. Tajkarimi removed the catheter, and I had full control of my bladder. My 70% sexual function returned after 2-3 days of removal of the catheter. And I am currently four months after the surgery.  I would strongly recommend Dr. Tajkarimi when you are determined to go under robotic surgery for prostate removal.
---
had a very pleasant experience interacting with Doctor Tajkarimi medical practice right from the word go. I am deployed overseas and was experiencing medical challenges, which despite two weeks of treatment by a local doctor i had not improved. I called Dr. Tajkarimi's office seeking an appointment and learnt that he was completed booked with patients. I genuinely appreciated their willingness to accommodate my visit as a new patient at the last minute, so big thank you to all of them where I am thoroughly impressed with the facility and the caring staff and the can do smiles welcoming patients. You all did a thorough job at a time when I was feeling severe discomfort. THANK YOU ALL SO VERY MUCH!!!
---
Waqas. M
Dr. Tajkarimi performed my vasectomy at his office. My experience was 5 star from the first minute until the end of the procedure.  He is incredibly kind and compassionate. I have already recommended my father and uncle to switch to him from another urologist in Reston.
---
Mani Patel
I was suffering from erectile dysfunction Dr. Kambiz Tajkarimi has done a coloplast Titan implant procedure which is a penile implant on April 24, 2018 after my initial recovery my penile implant is working very good and I am very happy. Dr. Kambiz Tajkarimi restored my sex life I am strongly recommending him to anybody who is suffering from erectile dysfunction. Dr. Kambiz Tajkarimi is an experienced and friendly doctor in the Urology field.
---
John S. Tysons Corner, VA
ENRIQUE SORIA AND I WENT TO SEE DR KAMBIZ YESTERDAY AND WE ARE VERY SATISFIED TO TALK WITH HIM ,VERY CONFIDENT AND PROFESSIONAL. WE ARE VERY HAPPY WITH HIM
---
Maria Umana
Best doctor I have met in years. He is attentive, intelligent and very caring. He did not recommend invasive treatment for my condition when other surgeons I met did. He told me that my condition can be managed without surgery for the next few years and he will let me know when if ever I will need it. I trust him. Highly recommend.
---
Eric T.
I was referred to Dr. Taj by my gynecologist for embarrassing urinary leakage. Dr. Taj's staff made the visit so pleasant. They are professional, kind, and efficient. Dr. Tajkarimi fully evaluated me, including a office cystoscopy. I had tried physical therapy and kegels for almost a year without success. he offered me a procedure to help me get better. About a week ago he performed an outpatient procedure called TOT sling on me. I feel amazing. no more leaking! I am very happy for my decision to see Dr. Tajkarimi.
---
Megan K. ,Leesburg, VA
I was diagnosed with prostate cancer at the age of 53 several months ago by another urologist.  I was terrified to my bones. I came to you for second opinion after my primary doctor slipped me your card.  After spending an hour to completely inform me of my options and details of what to expect, unlike the 10 minute rushed and confusing experience before coming to you, I knew you will be my surgeon. This decision was shared by my wife, and two daughters. Now 3 months after surgery, I am free of cancer, with excellent control of my bladder and extremely happy. I was back to normal after 3 weeks. If you are seeking the most caring, compassionate, and outstanding prostate surgeons, make an appointment to see Dr. Tajkarimi. I am so glad I did.
---
Terry K. Leesburg, VA
I was referred by a friend to Dr. Tajkarimi. This was truly a blessing. Dr. Taj is straight forward and takes the time to thoroughly explain everything so that the patient is confident in all the decision making. His staff is equally impressive in welcoming and providing follow-up to patients.
---
Jennifer T. Leesburg, VA
Doctor Taj is the third doctor I've seen for prostatitis. He's also the first one that took the time to listen and explain the disease properly. I respect his candor and honesty and willingness to think outside the box. I'm more confident I can get this disease under control under the care of Dr. Taj.
---
Daniel H. verified patient. zocdoc
One of the best kidney doctors you would ever want to meet!
---
Thomas G, verified patient. zocdoc
One of the few doctors who will actually be relate to you. I am quite pleased. Would highly recommend. Also a very funny man!
---
Christopher H. veritifed patient. zocdoc
My appointment was so fantastic! His nurse/receptionist was SO nice, and we had great conversations while I waited, and she put me to ease right away while taking my HPI and getting everything ready for our appointment. Dr. Tajkarimi was warm, charming, thoughtful, a good listener, asked perceptive questions, and he did an exam and diagnosed a condition that four other physicians hadn't caught!! I am so glad I went to see him and will refer anyone I know who needs a urologist.
---
Katie U, Verified patient. zocdoc
I have had urinary trouble for years and have seen several urologists and NP. My experience with Dr. Taj was outstanding. From the beauty of his modern Loudoun office, to the pleasant smiles of Dr. Taj and his staff, and his expertise and compassion. Highly recommend. A breath of fresh air in Virginia. Emily P. Leesburg, VA
---
Emily P.
I have known him for more than 15 years and observed his professional performance in many situations. He is dedicated to his patients, providing superb clinical care and surgical proficiency. In addition, he is a consummate urologic colleague, displaying the highest standards of service and professionalism. Arthur L. Burnett. Patrick C Walsh professor of urology. Johns Hopkins University, Baltimore, Maryland.
---
The Best! CH Arlington VA (google independent review)
---
My experience with Dr Taj was from heaven above. His robotic surgical skills are amazing. I truly believe if Dr.Taj didn't do my surgery I probably wouldn't be here today. Again thank you Dr. Taj and the good Lord above. CJ Maryland. Google independent review
---
I am a prostate cancer surviver. Dr. Taj performed surgery. He is highly professional & popular in Maryland. His surgery has saved my life. I am thankful to his care & compassion. I am cancer free more than 5 years & fully back to normal. John K, Frederick, MD
---
I have been a patient of Dr. Tajkarimi for 7 years. He discovered I had cancer in one of my kidneys. He removed the kidney robotically. My kidney was removed and I went home the next day. Much to my surprise, he called me the next day (weekend day) on his personal cell phone to check on me. How amazing and kind is that?? I continue seeing Dr. T every 3 mths, as I have bladder cancer and he performs a cystoscopy to check for any changes. Not only is this man an extraordinary doctor, but he is also an extraordinary human being. I believe that god has gifted this man to save lives. I will never be able to repay him for all he has done for me & for saving my life. Linda S, Chambersburg, PA
---
Dr. Taj always responds quickly to our needs & knows our family history. He makes sure we are doing all we can for my care. Dora E. Chambersburg, PA
---
My visit with Dr. Tajkarim was proffessional but treated me as his family. He took the time to explain my ultra sound results and gave me advice how to improve my symptom I was having. I now have no problems. Jessica Z. Frederick, MD
---
Dr. Taj is an amazing person and a phenomenal surgeon. After our 2 children, my wife started dreaming of a 3rd, to our surprise we conceived twins. After about 6 months in with 4 kids, the only thing on my mind was a vasectomy. I hate surgical intervention and the thought of a vasectomy caused me quite a bit of anxiety. My partner at work highly recommended Dr. Tajkarimi- he did an excellent job on his father's prostate surgery. I was sold after 10 mins of consulting with him. I had a six minute vasectomy . I feel amazing, he is hands down the best urologist all men deserve to have on their side! Kevin T. Hagerstown, MD
---
We came to see Dr. Tajkarimi because our one-year old son needed to have a recircumcision performed. There were also significant skin adhesions that needed to be released. As first time parents, we were very worried about the surgery. Dr. Tajkarimi put us at ease. He did an excellent job with the surgery and we couldn't be happier. He is a fantastic pediatric urologist. S. H. Frederick, MD
---
Dr. Taj is hands down the most competent, compassionate urologist I have ever known. I have prostate cancer. PSA zero since 2010. and fully back to normal. He is the urologist of my wife, my son, my daughter, my grandson, and everyone in my small town. He is caring, and extremely versatile. He is very confident. His personality exudes positive energy. I highly recommend Dr. Taj. I will follow him wherever he goes. John W. Fayeteville, PA.
---
Dr. Taj has been my urologist since 2008. What can I say. He has saved my life. Not only he cured me of renal pelvic cancer, which my oncologists in Pennsylvania told me is "end-stage", I am free of disease. All I can say if that Dr. Taj is the only doctor I trust with my life. I have followed him to Frederick. I will follow him to the moon if I have to. He gives his heart out to his patients. I cannot say enough about his compassion for me as an individual. He truly cares. Everyone in my church in Chambersburg loves him too. He touches everyone's heart. I pray for him every day. Cassie, C. Chamberburg, PA
---
I am a urological colleague who has known Dr. Kambiz Tajkarimi for several years, having collaborated on numerous pelvic floor pursuits, an area of common interest. Aside from being an excellent clinical urologist, he has spearheaded numerous ongoing research projects and has a genuine interest in pelvic floor issues, prostate cancer, spinal cord injury, neuro-urology, sexual dysfunction and urological innovations. He has vast expertise on the clinical application of health care products designed to improve the quality of life for both female and male urinary and sexual dysfunction. He has straddled both academic and clinical urology, is an avid participant in clinical trials and the writing and presentation of papers at scientific meetings. He is a high-energy, industrious, virtually tireless individual who brings the same passion to patient care as he does to urological innovation
---
Andrew Siegel MD Assistant Clinical Professor of Urology, Rutgers-NJ Medical School
He is very pleasant, knowledgeable, and caring. He spent 25 minutes with me and listened carefully to all my concerns, and spent so much time giving me information about my urological issue. I highly recommend him."
---
(Healthgrades independent review)
He made me feel very comfortable in discussing very private and personal aspects of my urological condition. He discussed all alternatives to further help me make an intelligent medical decision. I highly recommend this astute, caring, and knowledgeable urologist!"
---
(Healthgrades independent review)
Dr. Tajkarimi performed a radical nephrectomy laperoscopically. He was very attentive and caring. He called to check on me three times through the night and came to see me in person three time through the day. He listens to your concerns and I felt valued as a human being. He was even patient enough to show my children my kidney on my CT scan at a preoperation visit. Such a wonderful Doctor!
---
(ratemd.com independent review)
Really seems to know what he is doing. Explains everything to you and makes sure you understand what he is recommending. I like his personality and it seems like a lot of people prefer him to other drs. so he must be really good at making patients feel at ease and very comfortable with him when explaining what their problem is and how to treat it."
---
(ratemd.com independent review)
Dr. Taj removed my prostate cancer with a robot 5 months ago. I am completly dry, with my sex life improved 80% so far, and getting better, and I am tumor free. I know at least 8 other men who had robotic surgery with him and they are extremely satisfied. He is very busy, and you may need to wait 20 minutest to see him. But he will spend a lot of time with you and explains everything. He is so caring. Highly recommended.
---
(ratemd.com independent review)
the most caring and respected surgeon in Franklin county, PA
---
(Vitals.com independent review)
The perfect choice for a urologist
---
(Vitals.com independent review)
This is the best medical experience I've had in a long time. Dr. Tajkarimi is an exceptionally experienced and knowledgeable physician. Dr Taj did the appropriate tests and helped me to make an informed decision about my care. Dr. Taj is a skilled surgeon in that my recovery time and experience from the recommended surgery has been much faster and easier than average. Problem solved! I will continue use Dr. Taj as my urologist for the foreseeable future.
---
TC, Frederick, MD 2017 google review
The perfect choice for an urologist
---
(Healthgrades independent review)
We are lucky to have such a skilled and experienced surgeon in our area. Dr Taj is straight forward and very thorough - I wish more doctors were like him
---
(Healthgrades independent review)
Best urologist I have ever had!
---
(vitals.com independent review)
The only human Doctor I know
---
Charles T. Frederick, MD (Healthgrades independent review)
Dr. Tajkarimi performed robotic surgery to repair my bladder prolapse several weeks ago. I am extremely pleased with the results. Before I had trouble walking due to pressure and pain. Now, I can enjoy outdoor activities with my friends. Thank you Dr. Taj for changing my life.
---
Mary C. Frederick, MD